Our Sustainability Governance
A strong governance structure ensures that sustainability remains at the heart of our activities. The top management is actively involved in overseeing the delivery of our sustainability strategy.
At Board of Directors level, the Sustainability Committee Board of Directors assists the Board in defining the Group policies and strategies related to sustainability.
The SGS Operations Council takes the overall strategy forward, approving and implementing more detailed strategies, policies and targets through all operations across the Group.
Principles and Policies
Sustainability is one of our six business principles – the overarching beliefs and behaviors that guide all our decisions. Each business principle is underpinned by a policy statement that defines our commitments. Then, more detailed operational policies describe the rules that must be observed by our employees and subcontractors.
Learn more about our business principles and policy statements:
Materiality Matrix
Through regular stakeholder surveys, we evaluate key sustainability topics across groups and regions. This analysis informs our materiality assessment, considering megatrends, UN Sustainable Development Goals and risks/opportunities.
In 2020, we conducted a comprehensive analysis to assess the COVID-19 pandemic's impact on stakeholder expectations. Based on 2019 results, we engaged with over 4,000 internal and external stakeholders across 112 countries to evaluate the significance of each topic. Simultaneously, our Operations Council assessed the potential impact of these topics on SGS. This thorough process provided us with a profound understanding of the most material issues for the Group, forming the foundation for our sustainability goals and corporate reporting. Annually, an external third party verifies and assures this analysis during the annual report process.
In 2022, we updated the impact and importance of material topics to align them with our 2022 risk assessment. Each principal risk is linked to one or several material topics.
The result of this analysis is the materiality matrix displayed below, which prioritizes the most significant topics based on their importance to stakeholders and impact on the company. In 2023, we are enhancing this analysis by adopting a double materiality approach and assessing the financial implications of each of these topics. The Sustainability Committee of the Board of Directors was created in December 2021 and, among other duties, reviews and approves the materiality analysis of the Group. As we perform our materiality analysis every two years, 2023 will be the first year that the Board of Directors will review and approve this analysis.
United Nations Sustainable Development Goals (SDGs)
To maximize our active contribution to the SDGs, we have selected those most aligned with our business model and determined specific measurable goals for our supply chain, direct operations and services. This way, we ensure progress tracking and transparency.
Our Sustainability Ambitions 2030 include environmental, social and governance goals for our whole value chain especially designed to ensure that our positive impacts are aligned with the SDGs. In the image you can see some of the SDGs we focus on as well as some examples of our contribution. More examples can be found in our Integrated Report.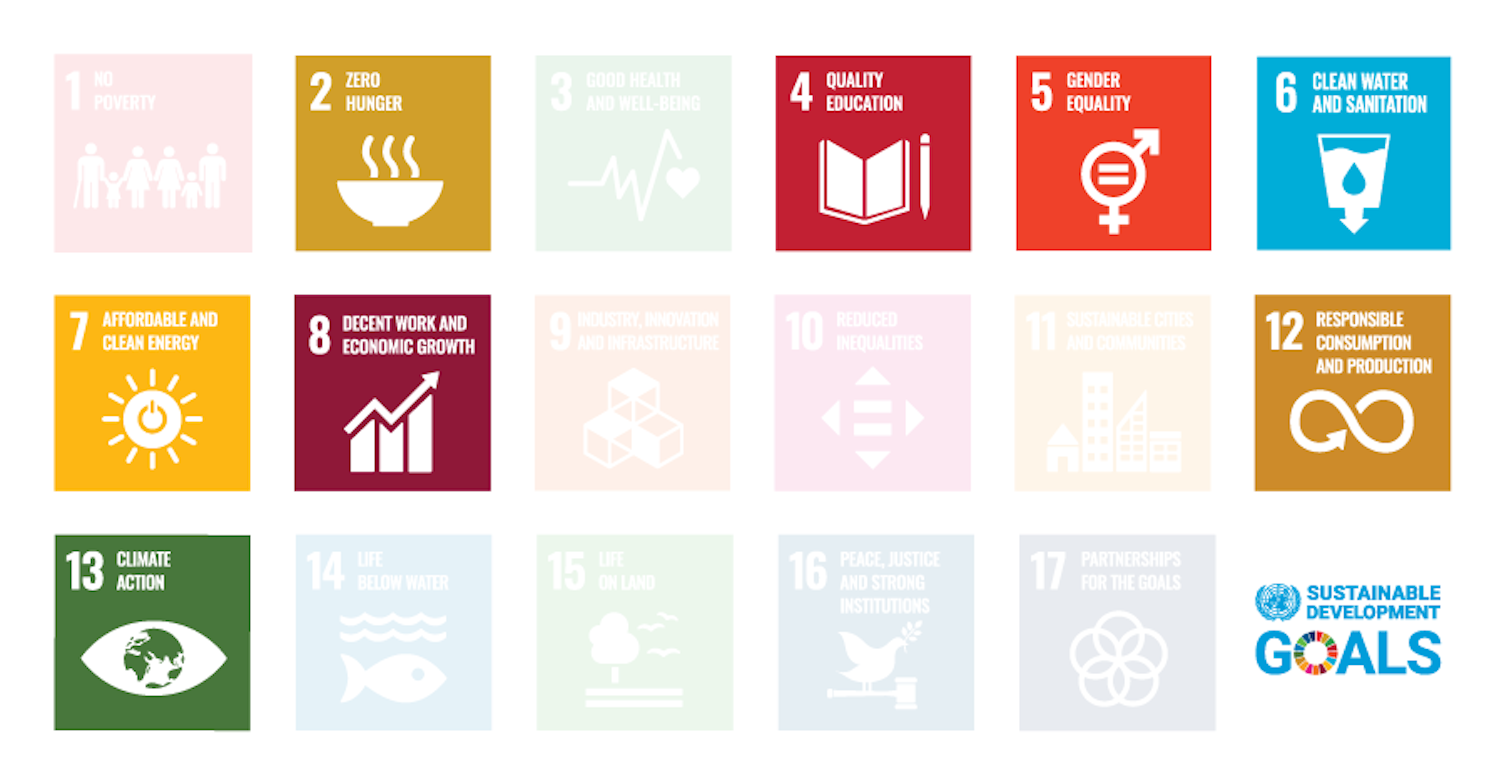 Examples of our contribution:
SDG 4 Quality Education
Community initiatives. Through our community education projects, we seek to improve access to all levels of schooling, and provide employment training schemes and skills workshops. SGS Academy for the Community provides complimentary high-quality technical training to people in our communities earning less than the average living wage, to improve their qualifications and enhance their employability.
SDG 5 Gender Equality
Empowering women into leadership. We are progressing against our 2023 goal of 30% women in senior leadership positions by taking proactive steps, from recruitment (our Recruitment Academy helps us avoid conscious or unconscious biases) to policies (for example, Antidiscrimination and Dignity at Work) to rewards (taking action on our gender pay gap).
SDG 6 Clean Water and Sanitation
World Class Service (WCS) laboratories. Each year, more of our laboratories adopt WCS methodology to build a culture of operational excellence and resource efficiency – optimizing the use of raw materials such as water.
SDG 7 Affordable and Clean Energy
Energy Efficiency in Buildings (EEB) Program. With energy use in our offices and laboratories worldwide accounting for more than 60% of our global energy consumption, EEB is a key driver towards meeting our 2023 and 2030 climate targets. In 2021, we enhanced the program with a digital system to model energy (and wider environmental) performance.
Sustainable business services. We offer a range of services to help businesses identify areas of opportunity related to inclusive finance, risk management, ethical practices, efficiency and productivity.
SDG 8 Decent Work and Economic Growth
Celebrating colleagues. We recognize and reward our people in different ways. For example, in North America our employee recognition platform, KUDOS, enables managers and peers to share praise about colleagues and link it to rewards.
Human rights training. In 2021, we updated our compulsory Human Rights training, with greater emphasis on raising awareness among employees about their rights, responsibilities and reporting mechanisms. We also established a Human Rights Taskforce to embed our Human Rights Strategy at operational level.
SDG 12 Responsible Consumption and Production
Sustainable Procurement. Our Global Procurement and Supply Chain Management Strategy places a heavy emphasis on sustainable procurement, helping us drive responsible production practices among more than 60,000 suppliers.
SDG 13 Climate Action
Towards carbon neutrality. Our strategy is to reduce energy consumption at source, use renewable energy whenever possible and offset residual emissions. We are delivering our Strategy through verified Science Based Targets.
Driving down our carbon miles. Our new Vehicle Emissions Policy requires that all SGS affiliates reduce the average emissions of their vehicle fleet and adopt low carbon technologies, including hybrid, plug-in hybrid, pure electric and natural gas propulsion systems.