SGS is pleased to announce the signing of a Memorandum of Understanding (MoU) with the Korea Testing Certification Institute (KTC), a world class testing and certification agency in the field of electrical safety and electromagnetic compatibility (EMC).
On August 15, 2022, SGS hosted a formal signing ceremony in Singapore to mark the landmark partnership which aims to strengthen cooperation and collaboration in the field of electrical and electronic testing and product certification.
Speaking at the event, Allan Jayaravin, Managing Director, SGS Singapore said: "We would like to thank KTC for their dedication and support in bringing this MoU to fruition. As the world becomes more connected, we have a greater responsibility to ensure the safety, quality and regulatory conformity of products and services. Working in collaboration with KTC means that we can ease the testing and certification process for brands, manufacturers, retailers and governments and help facilitate co-operation and trade between Singapore and South Korea."
Both organizations pledge to increase focus on customer satisfaction, product reliability and technological competitiveness in the wireless and EMC, software and information security, and e-mobility sectors.
SGS's operations in Singapore, as the Asia Certification Center, assist clients' fast access to global markets. This announcement follows SGS's recent acceptance by the IEC System of Conformity Assessment Schemes for Electrotechnical Equipment and Components (IECEE) as a national certification body (NCB) for Singapore.
Currently, two CBTLs (in Thailand and Malaysia) cover the product categories of batteries, household appliances, and EMC, under the auspices of SGS's NCB status in Singapore.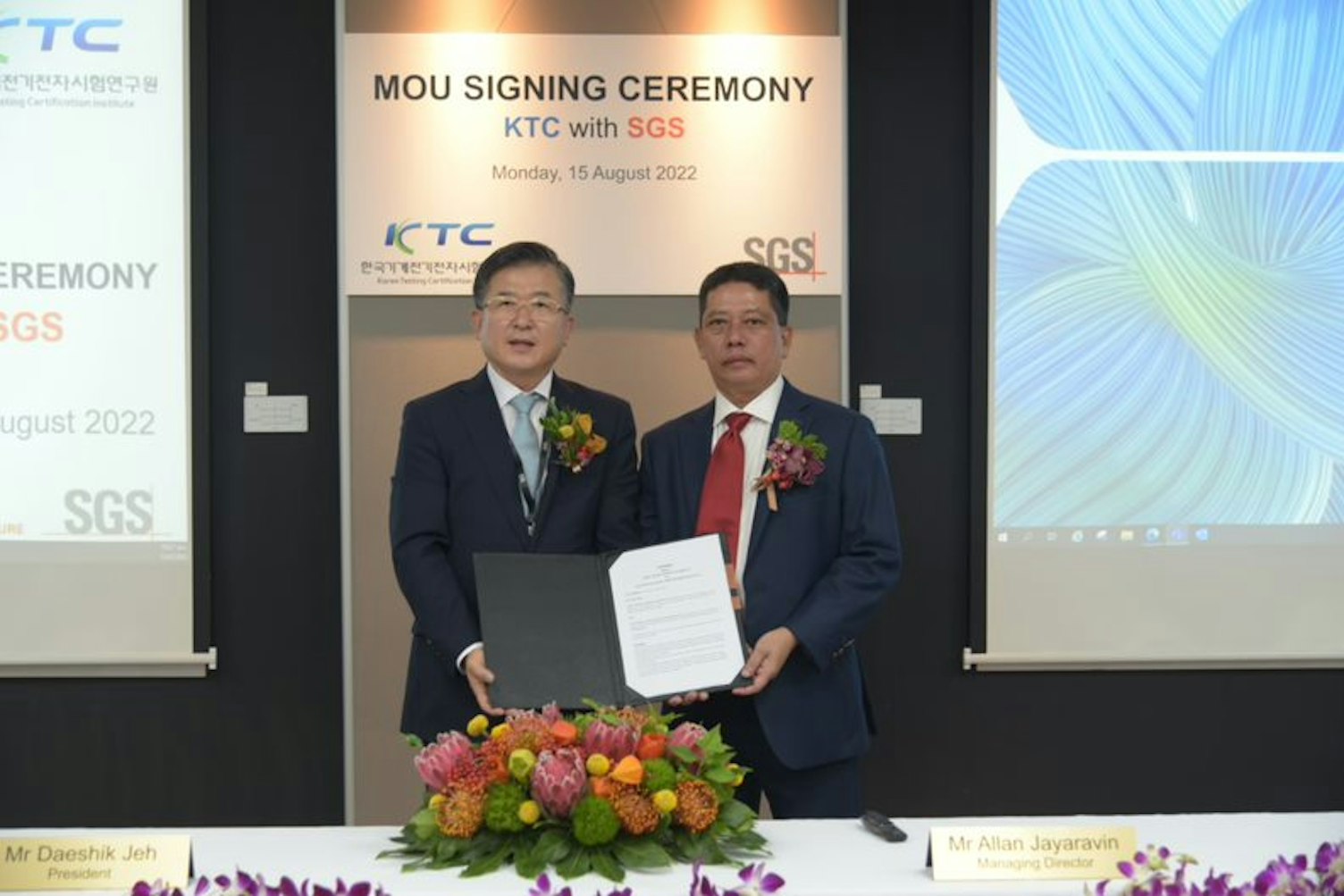 For further information, please contact:
Christopher Hee
Connectivity & Products
Certification Manager, Connectivity
t: +65 6379 0111
m: +65 91729347
About SGS
We are SGS – the world's leading testing, inspection and certification company. We are recognized as the global benchmark for quality and integrity. Our 96,000 employees operate a network of 2,700 offices and laboratories, working together to enable a better, safer and more interconnected world.
201 Route 17 North,
7th and 8th Floors,
Rutherford, New Jersey, 07070
United States