Corrosion under insulation (CUI) services from SGS – increase asset lifetime, improve productivity, and protect workers and the environment.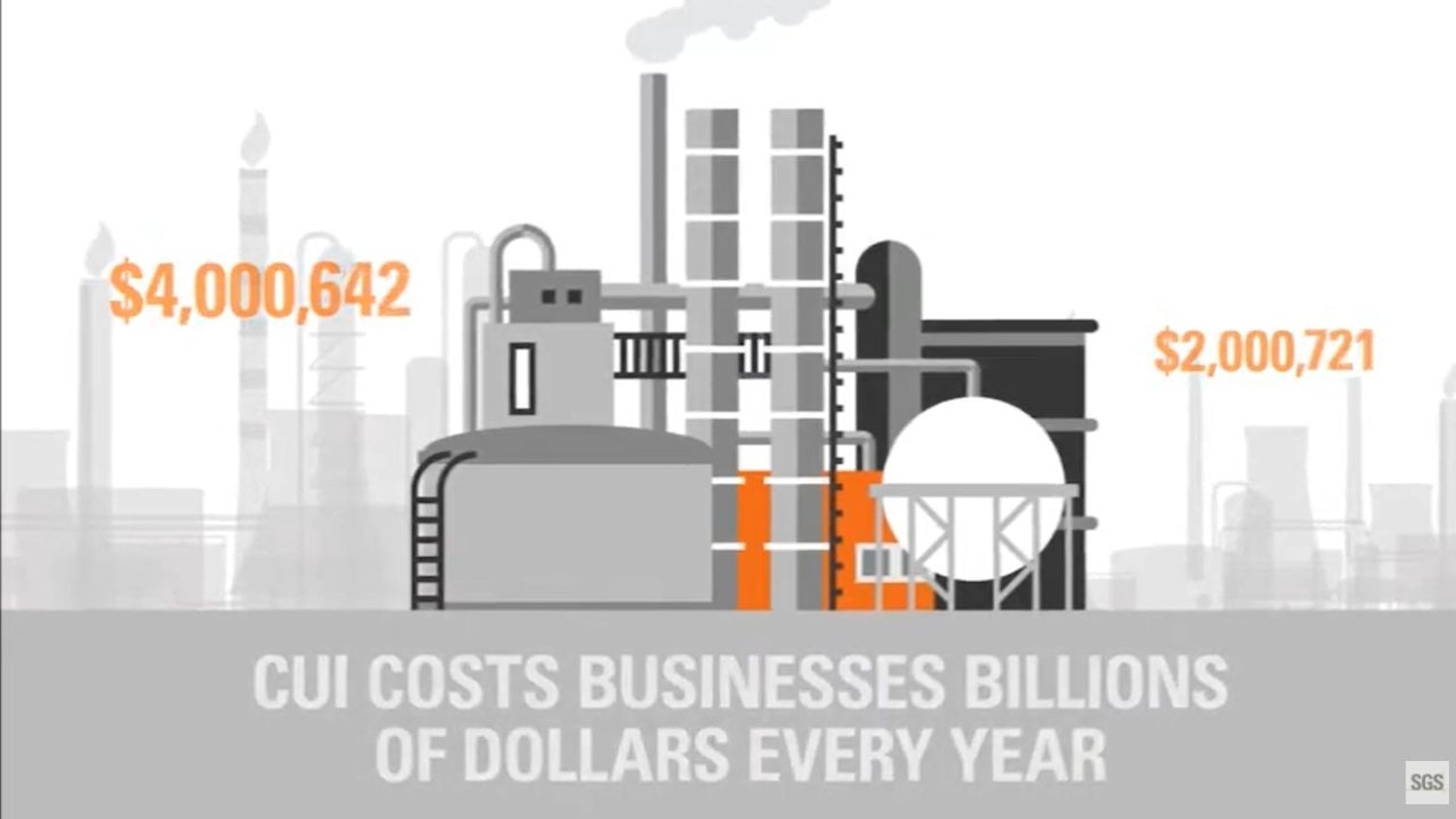 CUI is a huge problem for industry. It decreases productivity, endangers the environment and puts workers at risk. It has even resulted in loss of life. Damage from CUI costs businesses around the world billions of dollars every year.
Minimizing CUI plays an important role in asset integrity management and piping inspection. Unfortunately, current industry practice surrounding non-destructive testing (NDT) does not do enough to reduce CUI. Existing practice relies on audits and visual inspections to detect CUI. However, CUI develops over the asset lifecycle, as insulation integrity is compromised, creating multiple points of failure over time. As CUI can be invisible at the surface of insulation, this reactive approach means that by the time CUI is detected, it may have already caused severe, irreversible damage.
SGS has developed a proactive, risk-based approach toward CUI which identifies potential future CUI issues as well as areas that require remediation. This allows you to increase the lifetime of your asset and ensure greater environmental and worker safety.
Why choose CUI services from SGS?
We use the most up-to-date technology available to identify both current and potential future CUI issues. We identify areas requiring remediation through:
Guided wave
Real-time radiography
Pulse eddy current (PEC)
VT with partial removal of insulation
Neutron backscatter
Thermal/infrared imaging
Analyzing important process information allows us to identify potential future CUI issues. We can:
Identify threats and address issues of insulation damage before they become CUI
Correctly diagnose the source of CUI so that actions can be taken to prevent further corrosion
Our systems are consistent with NACE SP 0198 – Control of Corrosion Under Thermal Insulation and Fireproofing Material. They also follow the recommended practice for API 583, the standard covering design, maintenance, inspection and mitigation practices for pressure equipment, piping, and storage tanks to address external corrosion under insulation (CUI) and corrosion under fireproofing (CUF).
By using our risk-based services, you can:
Reduce the risk of CUI
Improve ROI on thermal insulation by reducing thermal loss
Minimize the risk of facility failure caused by corroded assets
Reduce costs associated with unplanned maintenance work
Ensure the safety and welfare of your employees
Improve sustainability and reduce environmental impact
Our systems can be scaled to suit companies of all sizes. This includes small companies that want to ensure compliance as well as multinationals wishing to create unified systems that improve safety and efficiency while decreasing cost and environmental impact.
Unrivaled Experience in Asset Integrity Management
As the world's leading inspection, testing, verification and certification company we have the resources and expertise to ensure that your assets are fit for service, reliable, safe and compliant with relevant regulations.
Contact us today to learn more about our CUI services.
Lot 3 & Lot 4, Persiaran Jubli Perak,
Seksyen 22, 40300,
Shah Alam, Selangor, MY-10, Malaysia